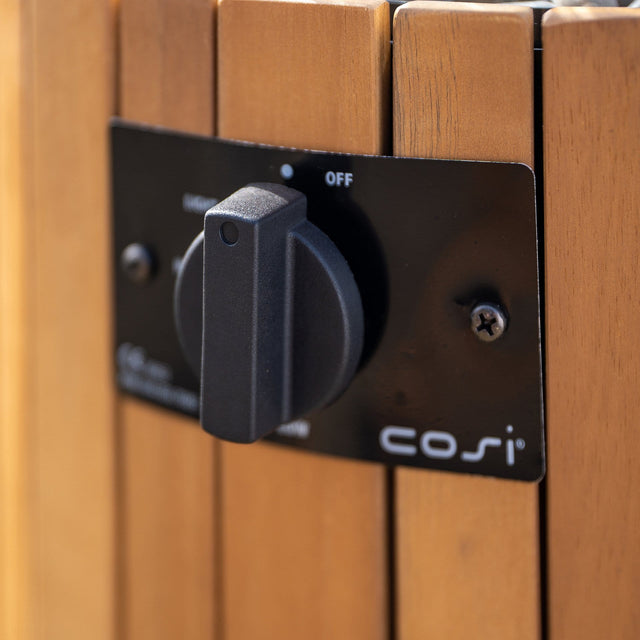 Cosiscoop Pillar Lantern Teak Pillar Fire Lantern
This floor standing real flame lantern is a stylish garden and outdoor space statement if ever there was one! Available in a variety of finishes, the Cosiscoop Pillar Lantern is complete with its own glass surround, decorative pebbles and electric ignition for ease of lighting. The lantern comes complete with a 37mbar UK Regulator. The lantern requires a 5KG Propane Gas Bottle. (The gas bottle is not included with the lantern)
Choosing a Cosipure with Teak Top? If you choose to cover your teak table with one of our weather protection covers, please remove it every so often to allow the wood to breathe. Alternatively, you can leave the teak tabletop outside or store it inside. If left outside the teak will age naturally and beautifully when left to the elements.

View the complete Cosiscoop Collection here and for inspirational tips, take a look through our Ruma Has It Blog.
Dimensions WxDxH
Technical Information
Material: Teak
Weight: 17.0 kg
Delivery & Returns
Mainland UK Large Shipping
Delivery costs £10 to Mainland UK. 7-10 working days.
For more information click here.
Returns & Refunds
If you're not happy, neither are we…
30 day returns.
For our return prices, click here.
Care Instructions
Hand wash only. Clean with a soft damp cloth, then wipe with a soft dry cloth. Do not use bleach or abrasive cleaners.
FAQs
If you have any questions or need further information regarding Outdoor, we invite you to explore our FAQ section.
Whether you're curious about our products, services, policies, or anything else, our FAQ section is designed to provide quick and comprehensive responses.
Find our Outdoor FAQs here.
GUIDES
Whether you are looking for Lounge Sets, Fire Pits, or Parasols, explore our outdoor buying guides. Find the perfect outdoor furniture for your garden and view our informative guidance.
Our Buying Guide section includes recommendations to style your outdoor areas effortlessly and ensure that our garden furniture will suit your home. We want to help you make the most of your space and choose the best design to be in harmony with your outdoor space.
Click here to access our Outdoor Buying Guide.
Colour & Materials
The cylindrical body is made out of Teak wood, a natural material that will age beautifully with time and exposure to the elements, with an electric ignition. The result is rustic and timeless design that you'll love in your garden for years to come. The attractive decorative pebbles placed around the base of the flame add the finishing touch, giving the pillar lantern a magical effect.
Placement
A Cosi Pillar lantern is the perfect outdoor light. Place it on a patio table, porch, outdoor walkways or in any space where you want to add a real sense of ambiance. The lantern's soft glow conjures a warm feeling and visual intrigue for you and your guests. Our Teak Pillar Fire Lantern offers a touch of drama, style and sophistication to your outdoor entertaining.