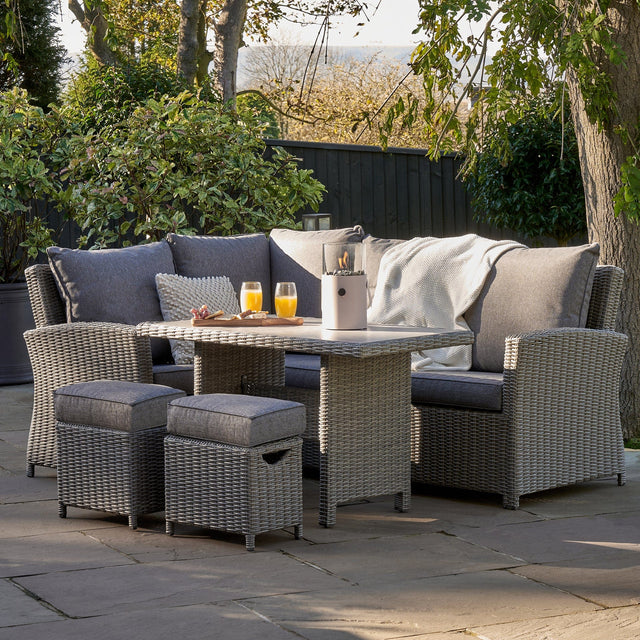 Anguilla Slate Grey Compact Corner Seating Set
Take your garden to the next level with our stunning Anguilla Slate Grey Compact Corner Seating Set. This statement set is guaranteed to bring refined luxury to your space, all whilst providing comfort and seating. Showcasing one corner sofa, two comfortable stools and a beautiful matching table, this set has everything you need. Ideal for those morning coffee breaks or for dining al fresco with friends. With its popular slate grey colour and classic weave effect, this set will remain stylish for many many years.
Dimensions WxDxH
Sofa Dimension: W65xD65xH84cm
Table Dimension: W112xD60xH67cm
Footstool Dimension: W43xD27xH45cm
Technical Information
Material: PE Wicker
Weight: 138.0 kg
Delivery & Returns
Mainland UK Large Shipping
Delivery costs £10 to Mainland UK. 7-10 working days.
For more information click here.
Returns & Refunds
If you're not happy, neither are we…
30 day returns.
For our return prices, click here.
Care Instructions
Hand wash only. Clean with a soft damp cloth, then wipe with a soft dry cloth. Do not use bleach or abrasive cleaners.
FAQs
If you have any questions or need further information regarding Outdoor, we invite you to explore our FAQ section.
Whether you're curious about our products, services, policies, or anything else, our FAQ section is designed to provide quick and comprehensive responses.
Find our Outdoor FAQs here.
GUIDES
Whether you are looking for Lounge Sets, Fire Pits, or Parasols, explore our outdoor buying guides. Find the perfect outdoor furniture for your garden and view our informative guidance.
Our Buying Guide section includes recommendations to style your outdoor areas effortlessly and ensure that our garden furniture will suit your home. We want to help you make the most of your space and choose the best design to be in harmony with your outdoor space.
Click here to access our Outdoor Buying Guide.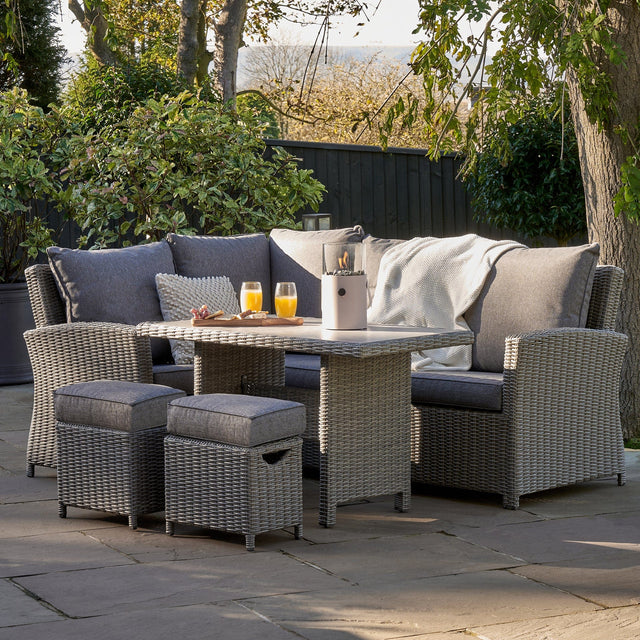 Colour & Materials
The Anguilla Slate Grey Compact Corner Outdoor Seating Set was created to provide a touch of modern style to your garden or patio. The outdoor table and corner seat are built of a mixture of aluminium and coloured yarn die fabric, which is noted for its durability. The cushions are constructed of polyester and match the corner seating set's attractive contemporary slate grey colour. Whatever the event, this beautiful outdoor corner seating set will be a terrific addition to your outside environment!
Placement
The Slate Grey Compact Corner Seating Set is ideal for large or small gardens or patios. Perfect for that morning coffee or dining with friends and family, this modern corner seating, outdoor table, and 2 stools will instantly add character to your outdoor living space.